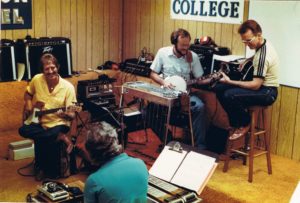 Welcome to Stringbender Music!  My goal is to pass along some of the musical skills that I learned in Nashville from 1980-1984.  During these years, I attended Jeffran College of Pedal Steel Guitar in Nashville, TN.  Jeff Newman was, in my opinion, the world's foremost steel guitar teacher.  He was also one of the greatest showmen and player of the steel guitar.  During those years, Jeff also brought "The Worlds Foremost Steel Guitarist", Buddy Emmons, to his school to teach a few classes.  During those years I learned musical concepts and techniques that enriched my playing by orders of magnitude!  Even though I was studying Pedal Steel Guitar, these concepts apply to nearly all stringed instruments.
I hope you'll follow along as I discuss some of these treasures online and maybe enroll in a class at Stringbender Music!    – Boyd
View Jeffran's website at jeffran.com.  The school  no longer exists, but you can still purchase the instructional material and products created by Jeff Newman.